Sankranti in Karnataka, Andhra Pradesh and Telangana; Poush Sankranti in West Bengal; Uttarayan in Gujarat; Pongal in Tamil Nadu; Lohri and Magi in Punjab; Magh Bihu in Assam… come January, and it is time for Makar Sankranti—a festival that is celebrated across multiple states in India. Arguably one of the most significant harvest festivals in the country, Makar Sankranti marks the movement of the sun to the Makara raashi (Capricorn zodiac). Celebrated over two days this year, January 14-15, 2023, due to differences in the Hindu calendar, Makar Sankranti officially marks the end of the winter, and the advent of spring and longer days to come. Most importantly it celebrates the end of a successful harvest season and the beginning of a new one.  
Rituals galore
Sankranti is intrinsically associated with a number of traditions and customs. According to mythology, it was on this day that Lord Surya (the Sun God) visited his son Shani. This visit marked the long-pending reconciliation between both Gods. Hence, it is on this day that people bond with family and friends, distribute the auspicious mixture of sesame seeds and jaggery, and wish each other good.  
Lohri in the North and Bhogi in the South is celebrated a day prior to the festival by making a bonfire wherein old objects are discarded and burnt.  In many states, prayers are offered to the Sun God and people take a dip in the holy rivers like the Ganges and Yamuna. Houses are decorated with kolam (rangoli) and most people celebrate by wearing new clothes and flying kites. It is a celebration of positivity, hope, and abundance.  
And when it comes to festivals no celebration is complete without the mention of scrumptious food that goes with it. Makar Sankranti is no different—it is a time to savour some delectable delicacies made from the fresh harvest. Foods like newly-harvested rice, jaggery, sesame seeds, sugarcane and vegetables like hyacinth beans, sweet pumpkin etc. are synonymous with this auspicious day. 
Here is a look at 10 traditional dishes prepared for Makar Sankranti across India:
1. Sakkar Pongal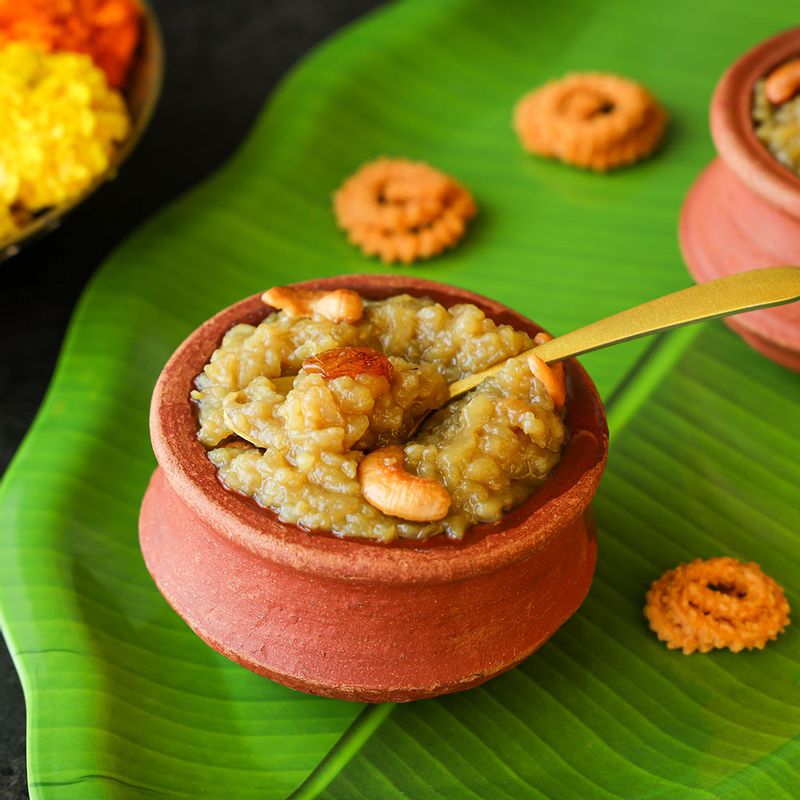 A dish that is intrinsically associated with the festival in the Southern states, Pongal literally means to boil over.  On this day freshly-harvested rice is cooked in a pot and is customarily made to boil over, a gesture that symbolises prosperity and abundance. Since the festival is one of thanksgiving, people in this region worship the sun God in gratitude for gifting them a bountiful harvest season. Sakkar Pongal is an ambrosial concoction made from rice, moong dal, and jaggery with generous amounts of ghee and dry fruits thrown in to make a delectable dessert. Rich and creamy, this one literally melts in your mouth!
2. Ven Pongal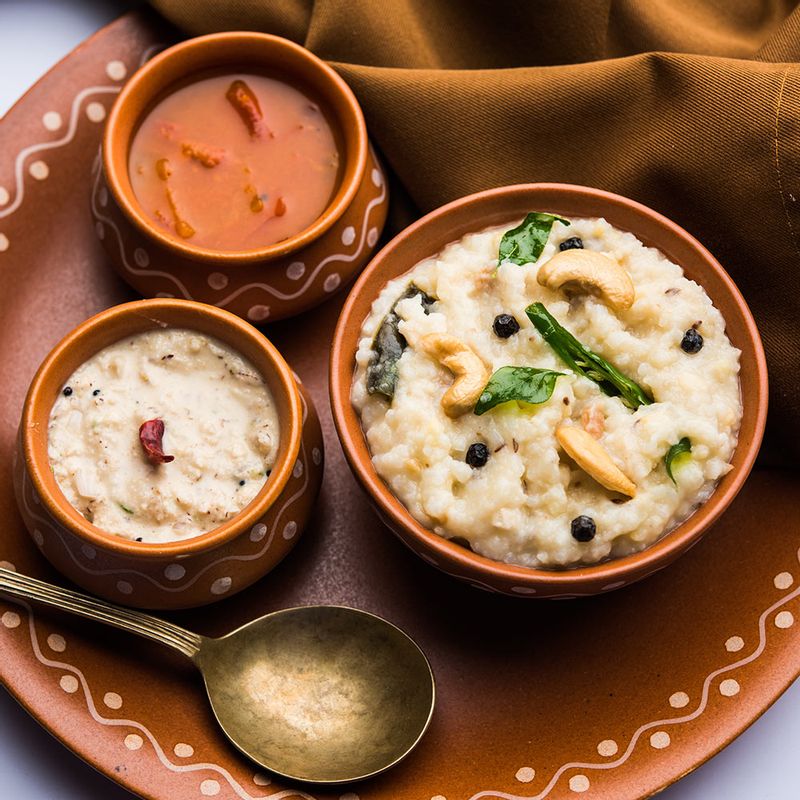 This is the savoury version of Pongal and is also prepared from rice and moong dal. Enriched with copious amounts of freshly-ground pepper and cumin, this aromatic one-pot dish is the perfect combination of taste and health. Ingredients like freshly-grated coconut, chopped cashews, and curry leaves are added along with a tempering of ghee—making Ven Pongal highly palatable. This dish is also a popular breakfast item.
3. Atharasa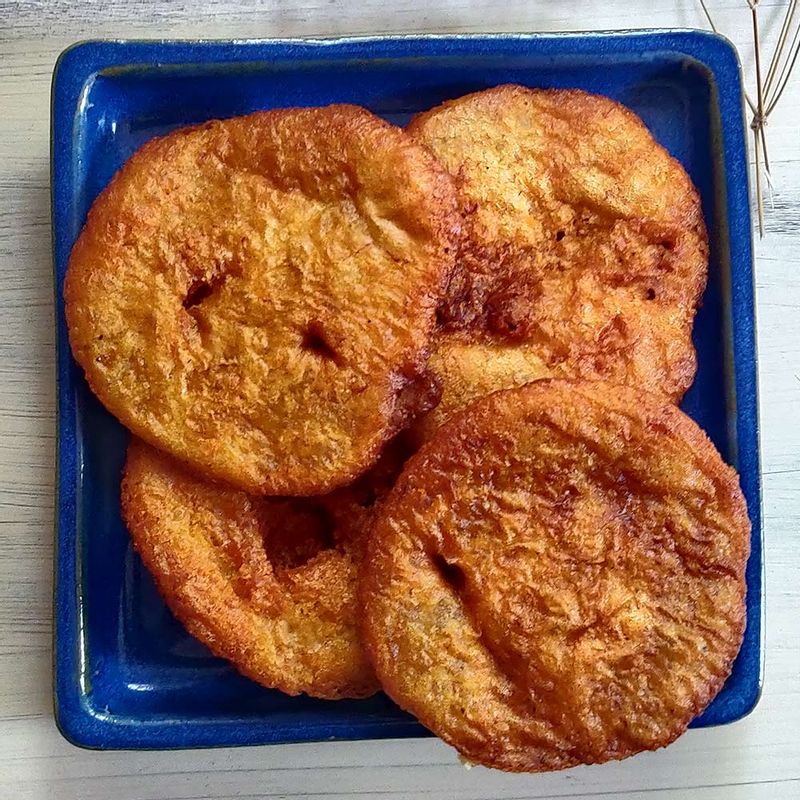 A highly significant dish prepared for the festival, Atharasa is also known as Kajjaya in Karnataka.  It is called Ariselu in Telangana and Andhra Pradesh, Adhirasam in Tamil Nadu, Anarsa in Maharashtra, and Arisa Pitha in Odisha. Freshly-harvested rice is washed, dried indoors, powdered, and mixed with jaggery syrup.  The batter is allowed to rest for about 12 hours and then divided and fried like doughnuts.  Regional variations include the addition of pepper, poppy seeds, and sesame seeds—all of which help keep the body warm in the winter. This sweet is also a part of the highly auspicious Chhapan Bhog offered to Lord Jagannath of Puri.
4. Avarekai Rasam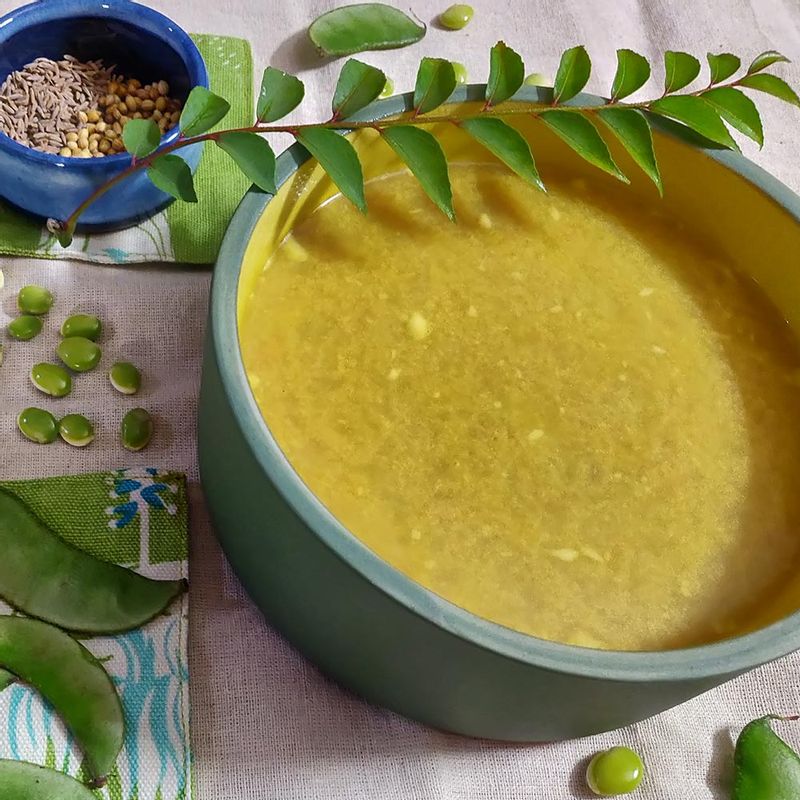 Come winter and Avarekai aka hyacinth beans are a delicacy in Karnataka, especially in the Bengaluru and Mysuru region. Rich in fibre, protein, and minerals—avarekai is known to have positive effects on blood sugar levels as well as skin health. It is customary to prepare dishes using this legume on the festival and rasam is a popular choice. A wholesome broth made from freshly-ground spices like coriander, cumin, and green chillies and fresh coconut—this rasam is piquant and an ideal addition to the festive menu.
5. Ellu Bella and Sakkare Acchu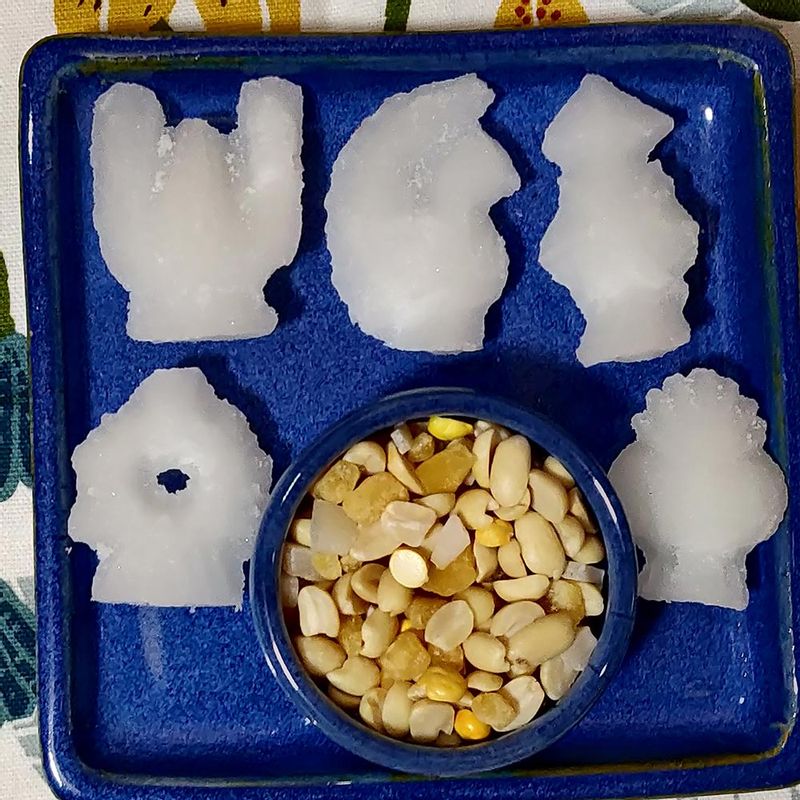 Ellu bella refers to the quintessential sesame seeds-jaggery mixture that is prepared along with finely-chopped dry coconut, skinned peanuts, and fried gram.  Symbolic of all things auspicious, this mixture is distributed to family and friends. As it is said in Kannada and Marathi respectively, "Ellu thinddi olle mathadu" and 'Til, gud ghya ni god god bola'—it is a tradition to offer a small portion of this mixture and speak only sweet things. 
Sakkare Acchu refers to little figurines and dolls of animals and birds made with sugar syrup in Karnataka.  It is prepared mainly for the children of the household and is distributed with the ellu-bella mixture.
6. Undhiyu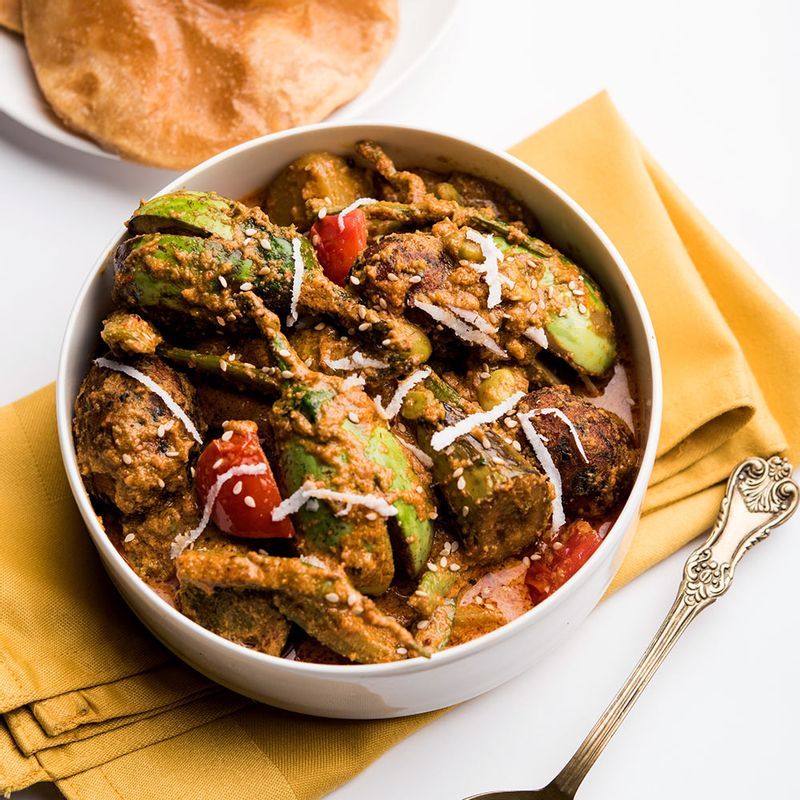 A signature dish from Gujarat prepared for Makar Sankranthi, this one consists of a medley of vegetables cooked in an array of freshly-prepared spices. Derived from the word 'undhu' that means upside down, this dish is traditionally slow-cooked in earthen pots placed upside down in a fire pit. There are many versions of undhiyu with surti undhiyu, the version believed to have originated in Surat, being the most popular. Vegetables like eggplant, potatoes, yam, green peas, raw bananas, and beans are cooked in an elaborate mix of freshly-ground spices along with dumplings made from fenugreek leaves.  
7. Til ki barfi or sesame seeds barfi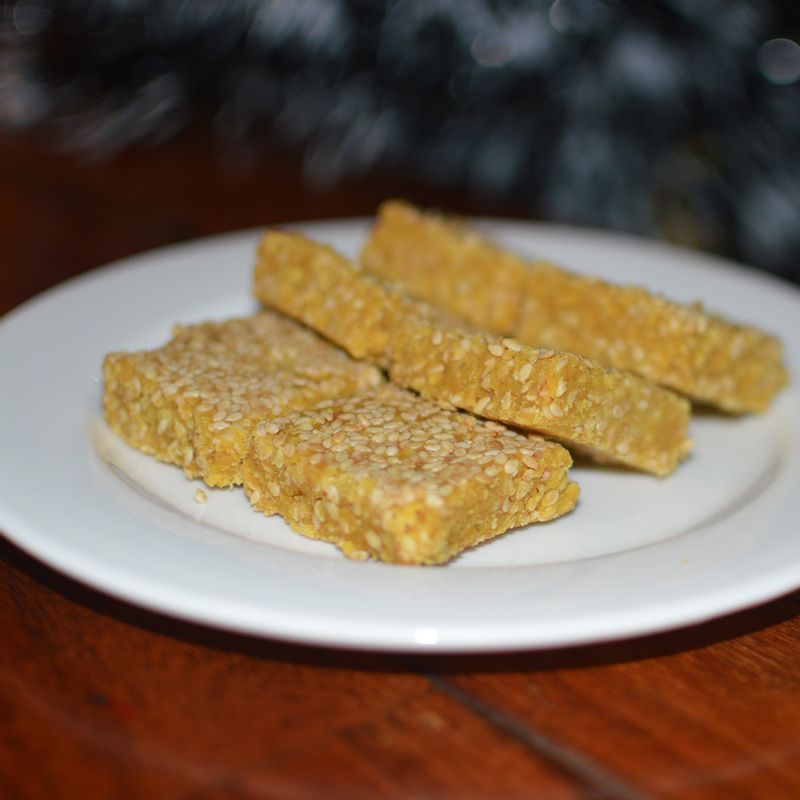 Another typical preparation in the states of North India, this one refers to roasted sesame seeds set in jaggery syrup to form flat cakes aka burfi. Known to be extremely beneficial for the body during this season, sesame seeds improve bone and skin health and is rich in calcium and magnesium. Jaggery, on the other hand, is rich in iron and is a blood purifier. Together, they help keep the body warm and these barfis act as an immunity booster and protect the body against the sudden change in the weather. 
8. Gur Halwa
A creamy yet healthy indulgence, this one is popular in Punjab and is made for Lohri and Makar Sankranti. The main ingredients include roasted semolina and jaggery.  The latter is added in the form of a syrup. Finished off with a generous tempering of ghee with dry fruits and nuts, this decadent dessert is simple yet heart-warming.
9. Makara Chaula
A speciality from the eastern state of Odisha, makara chaula is a traditional dish made from freshly-harvested rice. Washed, dried, and powdered raw rice is taken and mixed with ingredients like milk, sugarcane, jaggery, banana, and freshly-grated coconut. Cottage cheese (chenna) is added along with pepper, ginger, and fruits like apple and pomegranate. This 'no-cook' dish is offered to the Gods before being served to family and friends.  
10. Nolen Gurer Payesh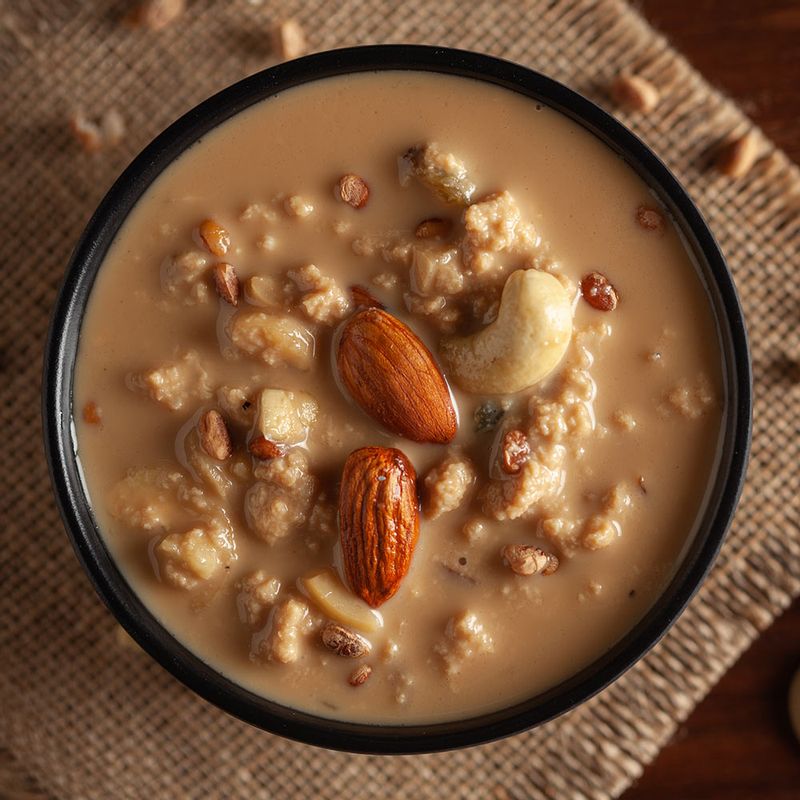 A delicacy of West Bengal, this one is a silky-smooth pudding made from rice and milk which are boiled together and reduced. The secret ingredient is nolen gur aka date palm jaggery or molasses that is available exclusively in the region during this season.  Nolen Gur adds a distinct flavour, colour, and texture to the dessert. The key is using fragrant freshly-harvested rice which adds a unique dimension to this pudding.
---
Photo: Shutterstock; Rashmi Gopal Rao