Kaliya Dhrow: India's Secret Geological Wonder
A visit to Mamai Dev Kaliya Dhrow in Kutch, Gujarat is a reminder of how the charm of travel lies in discovering the unknown.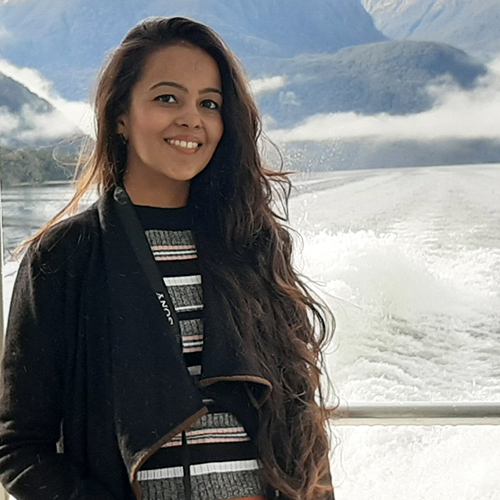 Shikha D
Published On Nov 27, 2021 | Updated On Nov 29, 2021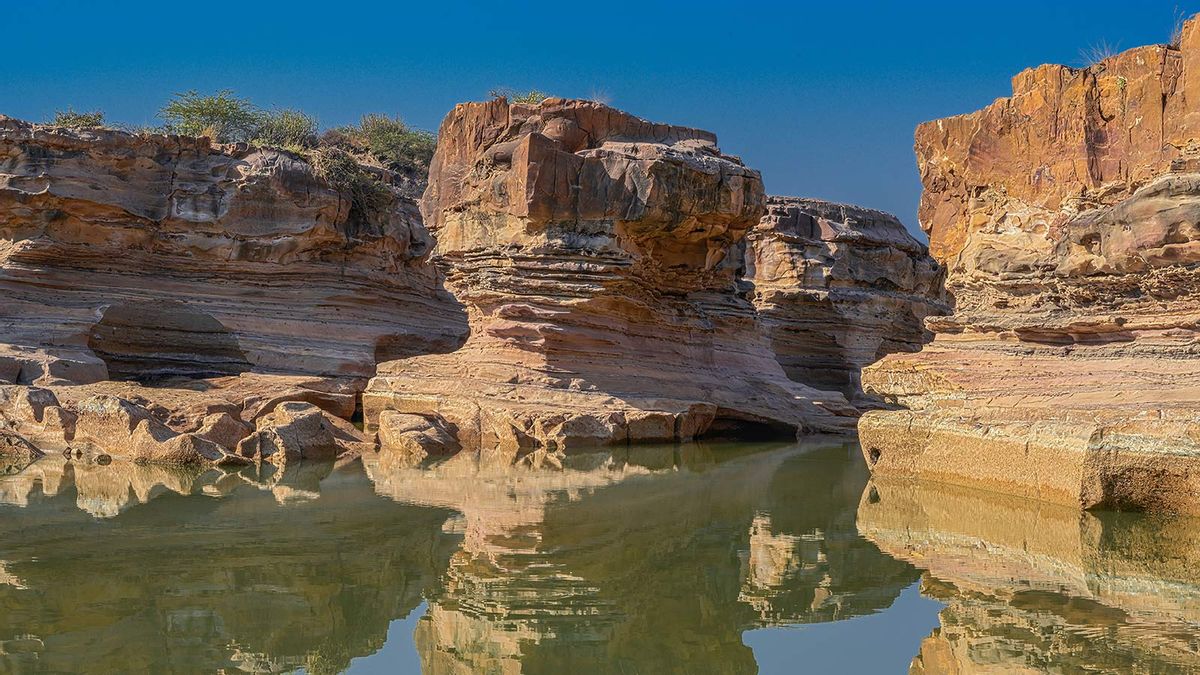 Gifted artisans, colourful tribal villages, warm and affectionate locals, and the hypnotising beauty of the luminous White Rann aren't all that Kutch offers. This often-overlooked destination, situated at the tip of western Gujarat in India, is home to wonders yet to be discovered, stories waiting to be told, and landscapes that could leave you mystified. 
The arid lands of Kutch summon those who do not wish to walk around with maps—those who are open to losing their way and, in turn, discovering something divine. Perhaps, a deeper connection with the place, its people, and above all, with self. The secret to this rewarding experience partly lies in bonding with the compassionate and warm villagers over a cup of tea or a homemade meal of rotlas (flatbread), kathol nu shaak (pulses), khichdi (a rice and lentil dish), and chaas (buttermilk). They will make you feel at home, enthusiastically narrate local tales and folklore, and even take you to some hidden gems most tourists haven't yet had the pleasure of visiting.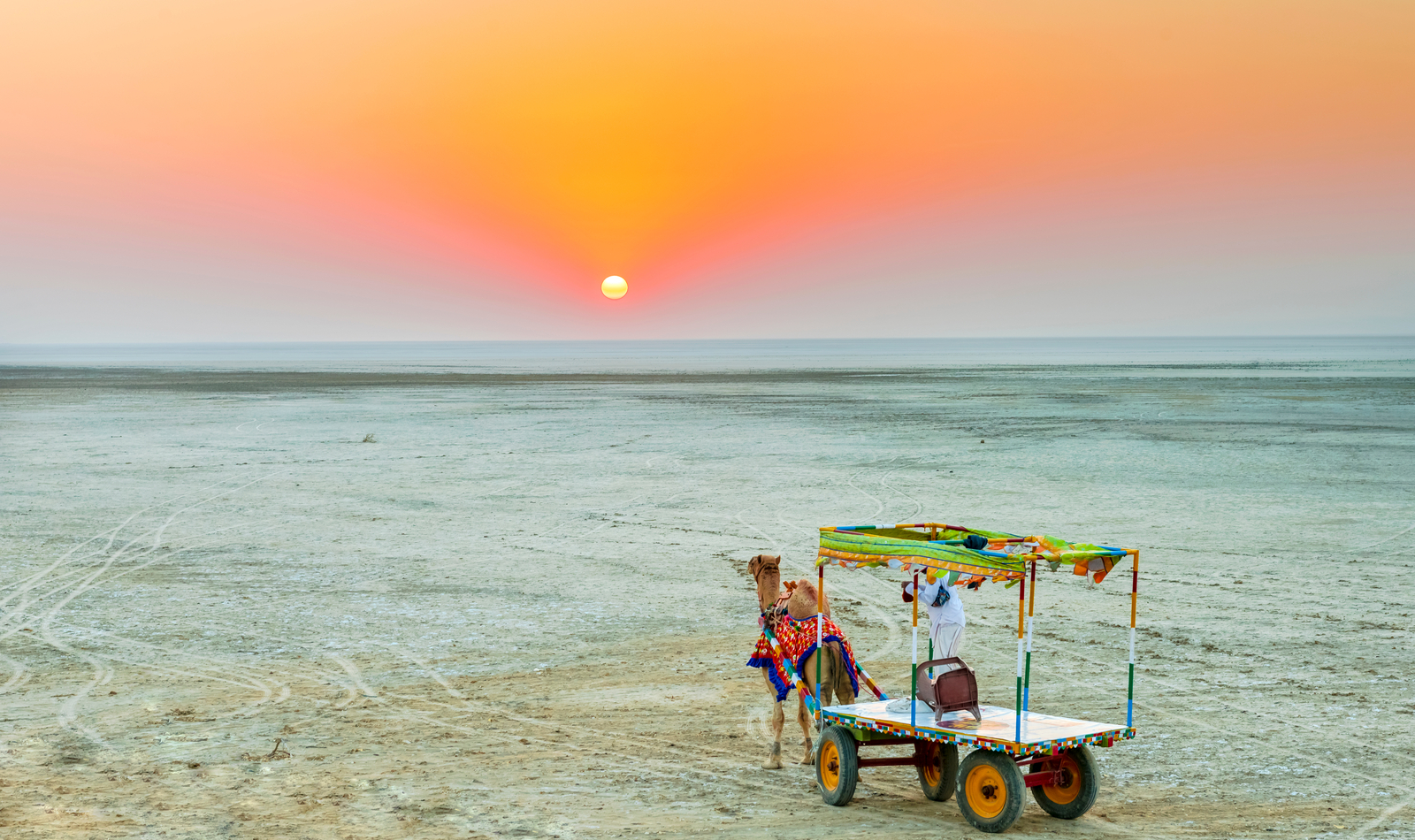 One such interaction led Varun Suchday to Mamai Dev Kaliya Dhrow, a natural landscape where history and nature collide so beautifully that one is almost left speechless. A Kutchi by birth and a nomad at heart, Suchday often takes the road less travelled to explore the unknown and understand a little more about his homeland with each passing day. During the Covid-19 lockdown last year, he frequently visited the nomadic herders and tribal villages of Kutch to ensure they had adequate food and other daily supplies. "I was spending a lot of my time with the Jatt and Gujjar communities. One day, I heard them talking about a certain "kotaro"--a Kutchi word for rock formations sculpted by wind and water. Their whispers left me feeling a bit curious. Upon asking, they insisted I visit Kotaro some time and see for myself. Each time I inquired about the way to Kotaro, I was suggested a different route. I guessed that there wasn't just one access point or a road that led me straight to Kotaro. I pinned it down to several villages like Medisar Gaam, Mai No Pat, Tharavada and Vatachad. When my friend offered his motorcycle for my wanderings, I left for one of the villages that were said to be close to my end destination. Obviously, my attempt was unsuccessful. In fact, I made two futile attempts that didn't lead me anywhere. For two long hours, I kept riding on the dirt road in circles and ended up losing my way back. On my third attempt, I finally came across a local who was on his bike and asked him 'Kotaro kada hai?' which means 'Which way is Kotaro' in Kutchi language. He was quick to point his finger and show me the way. After riding through rustic farmlands, I finally made it to the topmost point of Kotaro or Mamai Dev Kaliya Dhrow. And what I witnessed in front of me was absolutely mesmerising!," says Suchday who is also involved in grassroots tourism development.
The Grand Canyon of India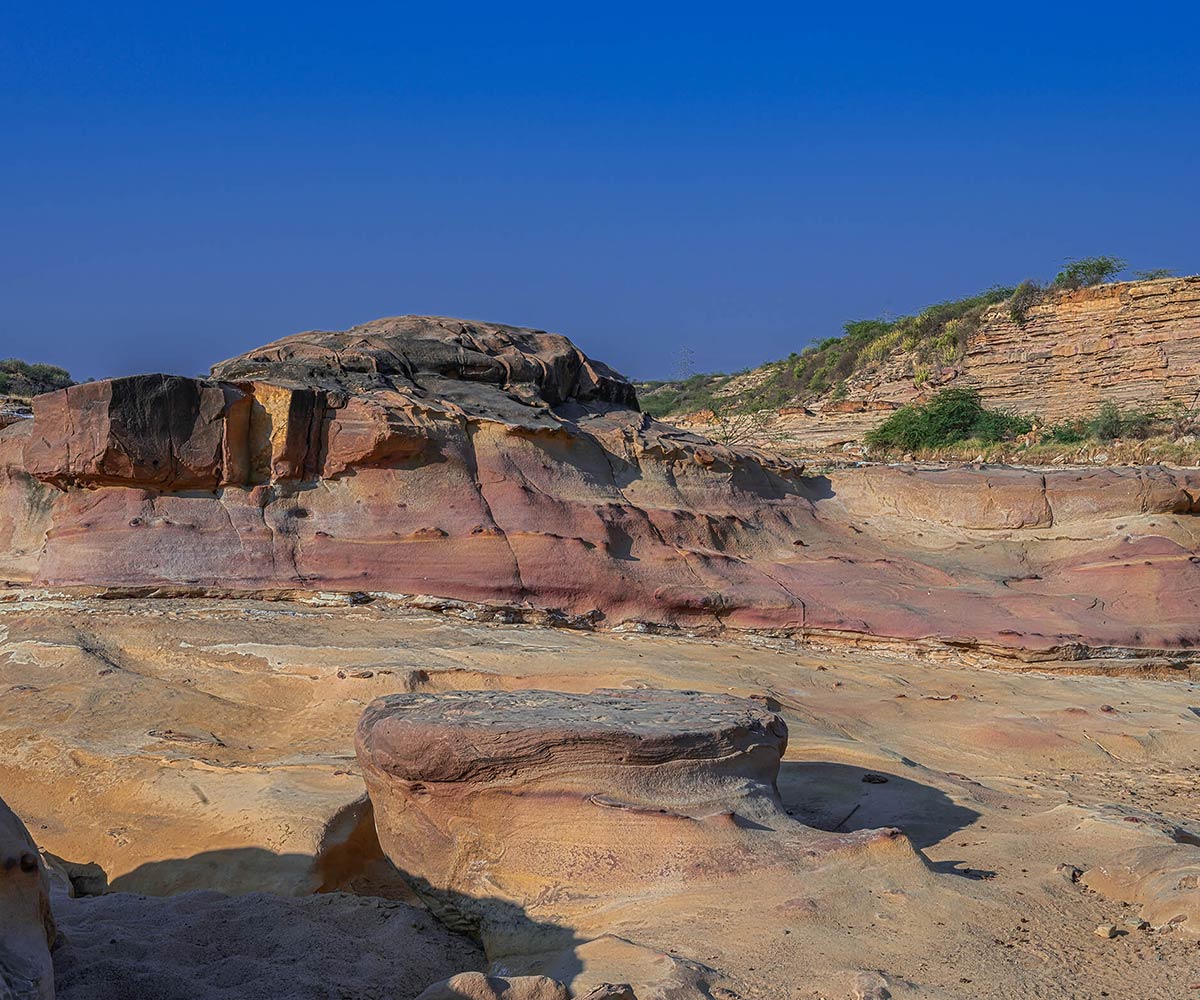 Often referred to as the Grand Canyon of India, Mamai Dev Kaliya Dhrow is located around 35 kms from Bhuj, the capital of the former princely state of Kutch. It is mainly a landscape of gorges—narrow valleys between hills, typically with steep rocky walls and water flowing through them—revealing millions of years of geological history. 
"For several minutes, I couldn't take a step forward and stood there staring at the landscape. I fell on my knees and tears started rolling down my eyes," says Suchday who visited the site sometime in July 2020 when monsoon was at its peak in Kutch. The rainy season is when the rocks are washed clean by rainwater and the site adorns a completely new avatar. Rocks wearing variegated shades of sunset colours like rust, crimson, dusty pink, purple, and sienna turn vibrant—and ample little waterfalls and emerald hills enliven the landscape. One can spot fish trying to fly upstream. Picture an enchanting place that looks straight out of a fairy tale!
Carved by nature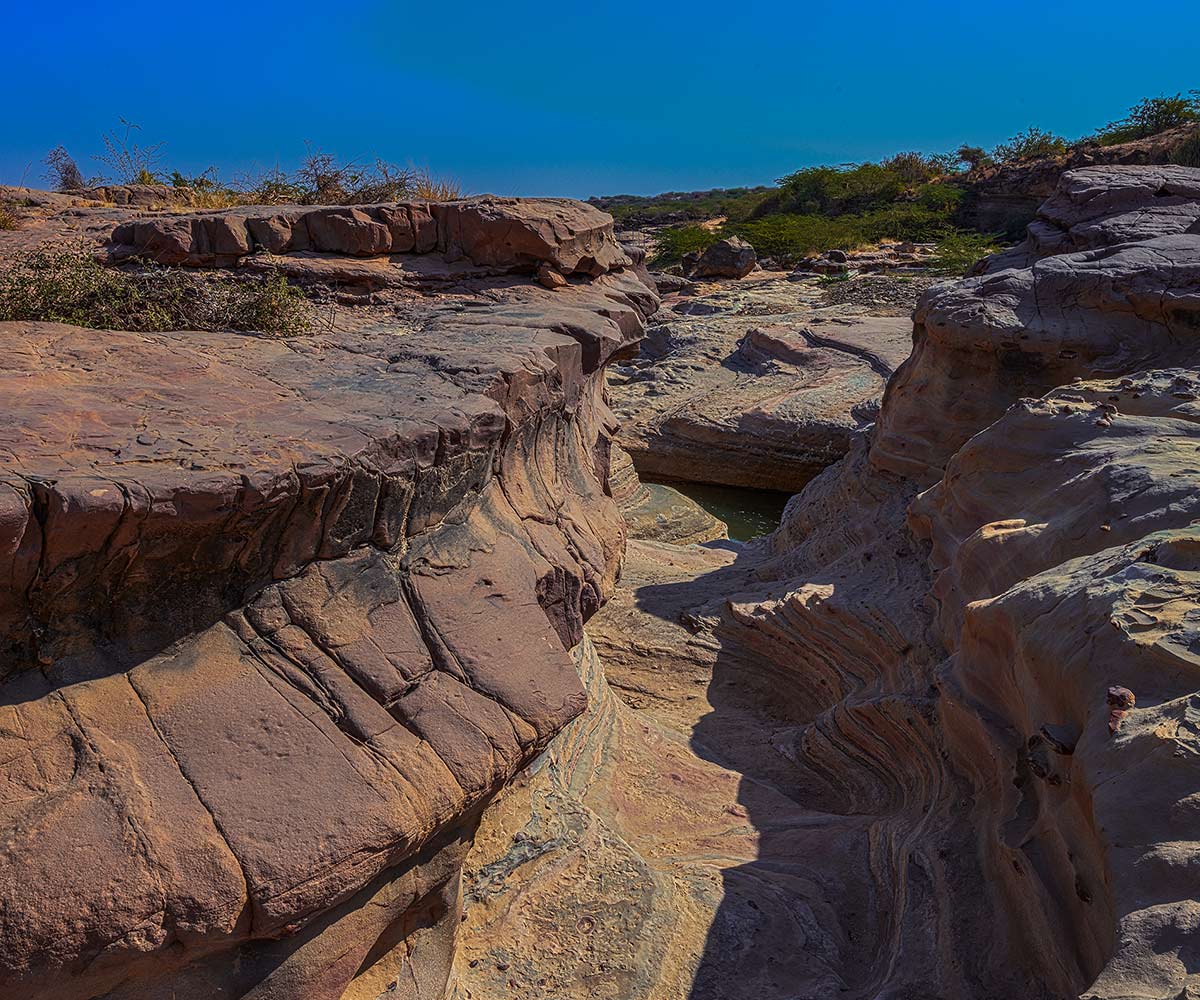 Mahesh Thakkar, professor of geology and head of Department of Earth and Environmental Science at KSKV Kachchh University believes Kaliya Dhrow is one of the most spectacular geomorphic features in Kutch for its natural carvings created by seasonal water on the rocky river bed. "The rivers of Kutch are largely seasonal; rivers that have bare rocks exposed on the river beds. Moreover, Kutch geological basin is a seismologically-active region. Hence, rocky landscapes frequently experience uplifts or subsidence due to tectonic disturbances leading to changes in the base levels over a course of time. These changes lead to rivers turning violent, leading to carvings and erosion, and the resulting formation of gorges and narrow rocky cliffs. There are also sudden changes in elevation and occurrence of waterfalls at many places," says Thakkar.  
The topography of Kutch is unique as it has evolved as a result of several phases of tectonic movements since the Late Jurassic period. "Kalia Dhrow is situated on the banks of Nirona River and geologically cut across the Jhuran and Bhuj formation somewhere between middle Jurassic to late Cretaceous ages. Potholes, runnels as well as incisions in the river channel are some of the attention-grabbing features here. The present topography of the area is a result of changes in river dynamics and monsoonal conditions as well as lithology of the deposits," explains Dr. Subhash Bhandari, head of Department of Archeology, KSKV Kachchh University.
Impressive colours and variations of rock outcroppings add an element of mystery to Kaliya Dhrow and make you want to know more about the geologic record exposed here. "The river cutting across alternate layers of shale and sandstone of Jhuran formation topped by thick, massive deposits of sandstone of Bhuj formation has shaped the present landscape, giving it a rugged appearance. The Jhuran formation which comprises alternate layers of shale and sandstone shows coloration ranging from yellowish orange to blue which is a result of the deep marine environment that has altered over time. Different levels of carbon, weathering as well as a wide variety of minerals have led to coloration changes of the shale. The varying carbon and oxygen levels result in oxidation of shale causing rusting and chemical weathering," explains Bhandari.
Legends of the gorge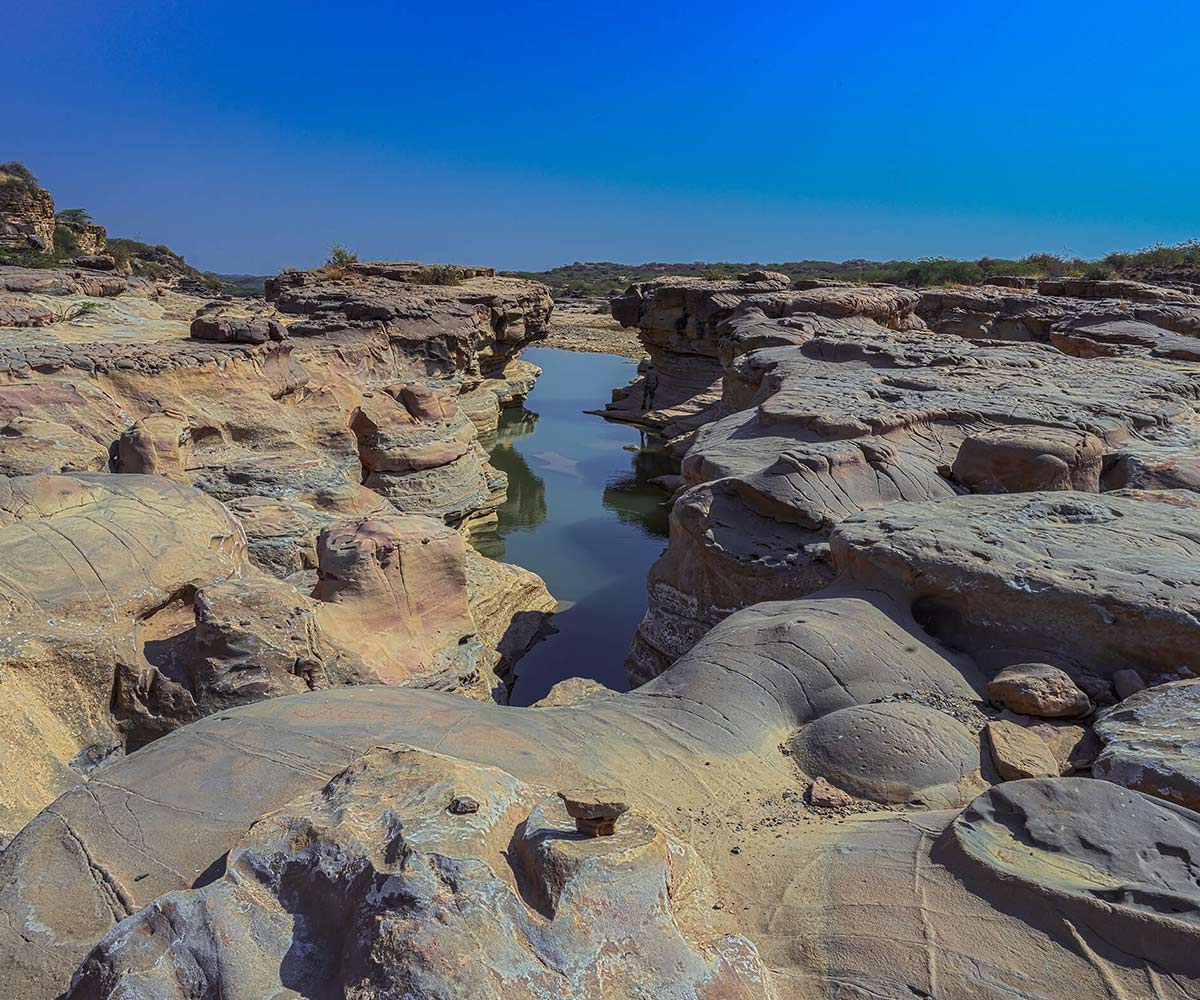 There are numerous myths and legends about this place that the locals still believe to this day. According to ancient legend, Kaliya Dhrow, surrounded by a sleepy jungle, was earlier a major source of water for thirsty travellers. This was because the gorge used to be filled with water throughout the year. Moreover, the rock formations at Kaliya Dhrow resembled a chain. Chain, when translated to the Gujarati language, is "Kadi" and the feeling of contentment one experiences after sipping water could be translated to the word "Dhrow" in the Kutchi language. Hence the name, Kaliya Dhrow.
There is another story behind the rather unusual name Mamai Dev Kaliya Dhrow. It says that Maheshwari Samraday's 4th Saint Mamai Dev's grandson had sacrificed his bracelet in a little water body at Kaliya Dhrow. Typically, when saints achieve a state of spiritual awakening, they transfer their energy or art onto a bracelet which is known as "kado" in the Gujarati language. When they are nearing their end, they either place the bracelet under a God's statue or sacrifice it in a river or a water body only to make sure the bracelet doesn't fall in the wrong hands or get damaged in any way. Some villagers also believe that Kaliya Dhrow is a God-made home for crocodiles.
Mamai Dev Kaliya Dhrow remained somewhat hidden until it appeared on the "52 Places to Love in 2021" list created by an American daily newspaper after reviewing 2,000 entries from around the world. "I share a strong emotional connection with Kutch. It isn't because I live here but because I truly appreciate and admire the magic it offers to a traveller. When I visited Mamai Dev Kaliya Dhrow, I realised the place has a unique energy. It was similar to what I experienced at Valle Sagrado de los Incas in Cusco, Lake Zaovine in Serbia and Habana Vieja in Cuba. These places have an aura that lights up your soul. I wanted the world to know about it. When I got to know that an international newspaper was making a list of unseen, inspiring places one could explore around the world, I wrote to them about Mamai Dev Kaliya Dhrow," says Suchday who states that around 30 to 40% of Kaliya Dhrow still remains totally obscure. "There is a stretch where one can find mushroom-shaped rocks similar to those at a site on the Colorado River in Arizona river in the United States," adds Suchday.  
Today, locals from different parts of Kutch visit this spot, but it is yet to receive the attention it deserves. "Tourism in Kaliya Dhrow could prove to be a double-edged sword. On one hand, it could give rise to work opportunities for the locals from the surrounding villages, and on the other hand put enormous stress on local land use, leading to increased pollution and natural habitat loss," says Ketan Maheshgiri Goswami who curates local travel experiences in Kutch.  "There was a time when there was no sign of humans at Kaliya Dhrow. Today, it has many visitors but they are mainly locals. Very few people outside of Kutch are aware of this other-worldly sight. A sunrise trek is a great way to soak up the beauty of Kaliya Dhrow," adds Goswami. 
Photo: Dinesh Pancholi
---
0
Turn On Notification